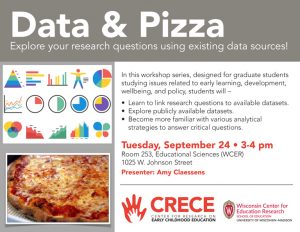 Led by:          Amy Claessens (Associate Director of CRECE)
Where:         Room 253, Educational Sciences (WCER)
                         1025 West Johnson Street
Dr. Amy Claessens is an Associate Professor in Educational Policy Studies in the School of Education at the University of Wisconsin – Madison.
Designed for graduate students studying issues related to early learning, development, wellbeing, and policy, students will –
Learn to link research questions to available datasets.
Explore publicly available datasets.
Become more familiar with various analytical strategies to answer critical questions.