Research posters provide a window into studies pre-publication.  They often include details about the structure and implications of research projects–both ongoing and completed.  The following posters have been presented since 2018.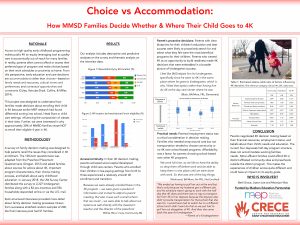 Abstract: This project was designed to understand how families make decisions about enrolling their children in 4K.  Earlier Madison Education Partnership (MEP) research found differential sorting into school, Head Start, or child care settings, which influenced the composition of classes at school sites. Further, we were interested in understanding why approximately 30% of Madison Metropolitan School District (MMSD) families chose NOT to enroll their eligible 4-year-old in 4K.  Findings indicated that parents negotiated 4K decisions based on their (a) financial resources, (b) employment status, and (c) beliefs about their child's needs and education. Specifically, the current four day/week (half-day) program structure does not accommodate working families needs, while more affluent families could afford to send their children to 4K in district-affiliated community sites and preschools outside the district program. Consequently, the experiences of young children across the District greatly vary, and District equity goals might be impacted.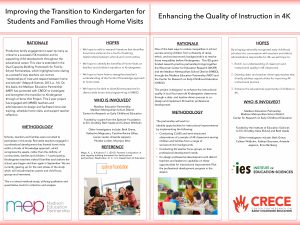 Abstract: One of the best ways to reduce inequalities in school success among children from diverse racial, ethnic, and socioeconomic backgrounds is to resolve such inequalities before Kindergarten.  This project–conducted in collaboration with the Madison Education Partnership (MEP) and the Madison Metropolitan School District (MMSD)–is designed to enhance instructional quality in 4K classrooms through a data- and teacher-driven process that informs the codesign and implementation of 4K teacher professional development.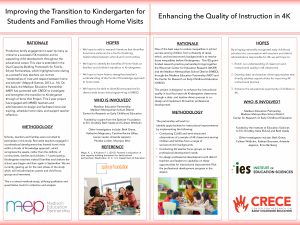 Abstract: Productive family engagement is seen by many as critical to a successful 5K transition and to supporting child development throughout the educational career. This view is extended in the Dual Capacity-Building Framework for Family-School Partnerships, which highlights home visiting as a powerful way teachers can nurture "relationships of trust and respect between home and schools" (Mapp & Kuttner, 2013, p. 14). On this basis, the Madison Education Partnership (MEP) has partnered with CRECE to investigate and strengthen the transition to kindergarten through a Home Visit Project. This 2-year project has engaged with Madison Metropolitan School District (MMSD) teachers and administrators to design and facilitate home visit training, schedule home visits, and support teacher reflection.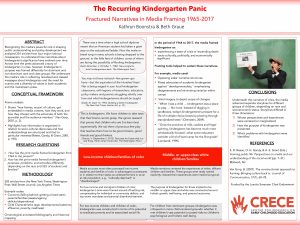 Abstract:  Recognizing the media's powerful role in shaping public understanding and policy development, we analyzed 201 articles from four major national newspapers to understand how narratives about kindergarten's significance have evolved over time.  For more than five decades, the press advanced a story of kindergarten in crisis; however, kindergarten's purpose was framed differently for dominant and non-dominant race and class groups.  We underscore the media's role in reflecting racialized and classed messages about kindergarten and the need for nuance and a diversity of voices in both academia and the mainstream press.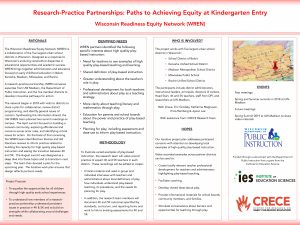 Abstract:  The Wisconsin Readiness Equity Network (WREN) is a collaboration of the five largest urban school districts in Wisconsin (Beloit, Kenosha, Madison, Milwaukee, and Racine).  Its aim is to address Wisconsin's enduring racial/ethnic disparities in educational opportunities and academic success.  WREN brings together administrators and educators in a research-practice partnership with the UW-Madison and WI Department of Public Instruction to develop innovative pathways for equity-building instruction.  Through two summit meetings and iterative planning, WREN has prioritized high-quality play-based instruction as a pathway to design locally-relevant teacher professional development and to advance understanding of the power of such instruction to strengthen children's conceptual foundations as they enter 5K.  WREN will engage with teachers, school boards, community members, families, and district leaders to stimulate conversations about barriers and opportunities for teaching through play–and build momentum for this type of instruction in Wisconsin's largest school districts.