Teacher Profile: Michelle
Site: Nurturing Development Infant Toddler
Michelle Saey got into early childhood education for her family. Told she would likely never have children, the birth of a miracle son made it clear to her that she wanted to stay home with him no matter the cost. Relying solely on her husband's income in the first few years of their son's life, Michelle drew on years of nanny experience and a love of children to take the plunge into running her own family childcare program for children birth-three. Remembering the delights of her own childhood growing up on a farm, Michelle and her husband found a farmhouse, and fifteen years later they operate a thriving Montessori-informed program on that site. With some kind of "magic in the water", the farmhouse has proven a site of endless wonder for Michelle's own son – who has thrived there despite a visual disability – and the countless other children whose lives she has touched throughout the years.
Michelle sat down with CRECE and offered her perspective on family, early childhood education, and the importance of mentorship.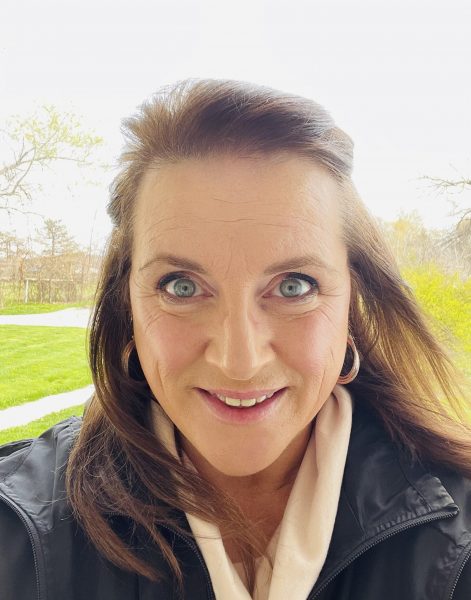 On the farmhouse where she runs her site:
"We moved out to this old farmhouse that it was built in, I think, 1856. There's grass and trees and endless space to run and play. And there's farm equipment, you get to see across the way from us the farmers are planting and harvesting, and it's just one of the great joys of living out here is just seeing them plant and talk to the kids – "What's that tractor doing? What is that piece of equipment called? And we read books and in the fall for the harvesting we have some of the families come out to watch them harvest the corn across the road.  It's been a lot of hard work out here, but here we are 15 years later, and I just love it here"
"As you grow and learn, you change, and I feel like I'm just constantly in progress"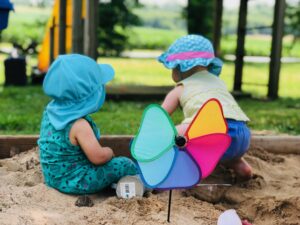 On the power of the outdoors:
"We found out [when my son went to kindergarten] he was legally blind and nobody knew it. The ophthalmologist said, 'I see kids that come in here who are legally blind, and they aren't thriving. I don't know what you're doing there but there's magic in the water because he's doing everything every other kid his age should be doing.'
And so, [with our program] we started slow but now we're just outside as much as possible. Because whatever you can do inside you can do outside weather permitting. We'll just go lay blankets and put mats outside so they can lay under the trees and look up at the trees, and I just feel like being outside makes everybody feel more calm. You feel more connected. When it's cold out with the babies, if they're sitting up, I'll bring snow in and tubs and let them play in the snow inside. And I'll bundle them up and take them for walks.
[My favorite thing to do with children is] anything outdoors. I have usually a couple of tricks in my back pocket so that if I see that they're gravitating towards art, I have a couple of things to put out – whether it's leaving buckets of chalk on a big flat rock so that they can scrub the chalk on there and then have water available with brushes, they can go and wash over it with water to having little art projects. I always feel like my job as the teacher is to prepare the environment so that there's always a good choice that they'll be learning. No matter what they choose they're going to learn.
And I just like wandering around outside and doing – we always call them our nature walks – they each get a little apple bucket, and they get to pick up whatever they think is interesting and then we come back, and we sort and count everything and talk about it. We find all kinds of animal tracks and you try to identify 'what do you think that was' and 'look at how long it is, and you can measure it'. Anything outside I think is just fun because two days are never the same. I always allow the child to be the initiator of any conversation about their play."
On starting a Montessori-informed family child care program:
"[When I was looking for schools for my son] I was like, this is not what I'm looking for. [Then] we wound up at Countryside Montessori Preschool on North Port, and I walked in and immediately felt at home. I said to my husband, 'Yeah, we were raised that way. We didn't have the Montessori materials, but we were raised under the same philosophies. And so, I said you know what, I'm opening my business, and I'm doing this, and we're doing it. I'm going to start at birth.'
Because nobody does birth to three in the Montessori here. And I always felt like I wanted to work with babies because I always felt like they get kind of the short end of the stick, they get drug along with the big kids, so I that's how I started. I start with little babes and keep them till they're three and then they move on and I get three more little chicks in the door. It's really hard to let them go, because you're so attached. Well, and it's probably hard for the parents to let you go. And it's hard for the kids to leave because they don't ever remember not being here."
"Now we're just outside as much as possible. Because whatever you can do inside you can do outside weather permitting, and I just feel like being outside makes everybody feel more calm. You feel more connected."  
A powerful moment with a child
"I had this family, when the little girl was born, she came to my program. They moved away, and she left my program she was only 18 months old. Oh, so it was so hard to let them go because to this day they're like family to me. When she was almost four, we went to visit them. I said to my husband "I don't think she's going to remember me at all." We got there and the girls were out in the front yard in their night gowns waiting for us to arrive. And I knelt down on the ground – and this makes me cry every time – I said to her, "Can I give you a hug"
And she came running over and she hugged me so tight, and I whispered to her and said, "Do you remember me?" And she said, "I remember that I love you."
On becoming accredited in Early Childhood Education:
"That was the first thing I did. I accredited with the City of Madison [which involved] meeting with consultants and signing agreements that you will uphold their standards of care. And it has been such a blessing to be around other professionals from the beginning. I've been lucky enough to meet providers from all over the state and country at conferences. [That has been] resource rich, you know, any questions or interests you might have. So, as you grow and learn, you change, and I feel like I'm always in progress."
With infinite resources, what would you change about early childhood education?
"Number one, I would really love to see a better way of information to be given to early childhood providers and caregivers, and to really work hard at raising the standard of care across the board. I'm probably not the best of the best, but I'm pretty damn good at my job and I love it. And I'm very dedicated and the reason I can be so dedicated and work so hard, is because I've had the luxury of information and mentorship. Fair is not always equal, you know, I don't think it should be just equal it should be fair.  I'm so sick and tired of the underprivileged families not being served properly. We need to make high quality childhood education available in every neighborhood. The first conversation I had with [the developer of the farmhouse property] when he came to meet me was, you build all these neighborhoods, all these people in these rich fancy houses are coming to me for childcare, you as a developer should do better, and you should make it affordable for childcare providers to live and work in your developments."
On working with families:
"The most valuable thing is the connection, if I can be connected with the parents. That makes my job so much more enjoyable, so much easier, especially with getting newborns. There's such an enormous amount of trust that has to happen, because they can't tell you what's happening right now. And I couldn't do this [myself]. I have great respect for parents who goes through all the hoops trying to find someone to nurture their children. And it's hard for me to see them leave the first day, to be frank. Because you know [the parents are] crying all the way to work and they're crying at their lunch hour in the bathroom. I always tell them, 'don't ever underestimate the understanding I have for the amount of effort, and the strength, it takes for you to walk out my door'."
What's one thing about ECE you'd like everyone to know?
"How intensely dedicated the people that do this work are. Because it takes a lot of drive. It takes a lot of energy. It takes a lot from your own life. I mean, I've been called a workaholic in the past, but at least I'm in my home. I love being able to create the environment that I feel comfortable in. I feel like the families that come here feel very comfortable and that's one of the beauties of family childcare, there's something out there for everybody. Because not all of them are the same. That's the beauty of it, that you don't have to conform. People are very misled on the amount of effort it takes and the amount of dedication, it takes to stay in this business.
I think there's got to be some kind of national shift. The best way to make this better is to include probably public education starting at birth. Then if you want to be part of the public education system in early childhood there are certain standards, you have to meet. [And] without mentorship, nobody does well. The first thing my father – who had a sixth-grade education – told me is it doesn't matter how smart you are, if you can't learn from somebody who's gone before you [you are missing out]. So all my life, every job I've ever had, every business I've ever run, I always saw a mentor from the community. I don't see that happening in early childhood in in a field where we're so isolated.
Really, we need to come up with a way to connect people and help them get mentorship, not only for the care and nurturing of children, but also how to successfully position themselves as business people, right? Because nobody trained you for the business part."