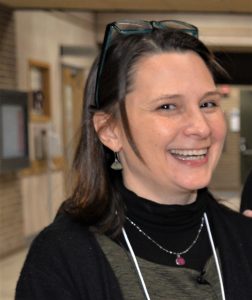 When expert early childhood educator Meredith Dodd came to the UW-Madison as CRECE's first Practitioner in Residence, she brought a profound perspective and skill set to share with the pre-service and professional teachers, MMSD administrators, and researchers she met at the Wisconsin Center for Education Research.  Not only did she hold the floor in presentations, she inspired a group of 50 future teachers to sprawl across a hallway to experiment with story cubes—one-by-one foot cubes made out of duct-taped PVC pipes that can be filled with objects children bring from home or, in this case, UW students pulled from their backpacks.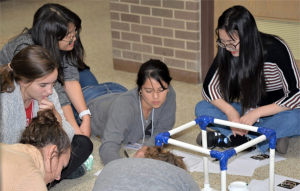 Sunglasses, coffee cups, stickers, pencils, car keys, and more all found their way into the PVC cubes. These were used as story prompts by groups of students as diverse as the 3-year-olds who populate Dodd's classroom at the University of Chicago Laboratory Schools, where she is a lead teacher. As they collaborated on an activity as deceptively simple as it was fun, the UW students learned first-hand how tools such as story cubes can help build literacy and math skills, as well as community bonds.
Later that evening Dodd presented to professional early childhood educators from across the Madison community. Around 40 teachers made time to attend her presentation:  Gravity Did It! Mathematical Thinking, Social Emotional Learning, and Literacy in Preschool Block Play.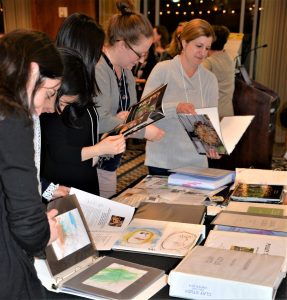 Hosted by CRECE at the Fluno Center, teachers were treated to a meal and in-depth discussion about creative ways to build children's mathematical reasoning.  Sharing videos and notebooks that document her students' learning, Dodd revealed the remarkable ways students "see, think, and wonder" about their world.
Young children's capacity to learn through building towering structures, or through observing plant growth over seasons, is greater than people typically imagine, Dodd shared. Giving children access to an increasing number of blocks and (later) clipboards can support their discovery of concepts such as "gravity" and "foundation"—terms some of her students use with remarkable accuracy. The Madison teachers reflected with Dodd about the children's interactions and reasoning, and spent time examining her extensive documentation of student learning.
Several attendees expressed appreciation for the opportunity to focus on cutting-edge professional practice. Emily Sonnemann, a Madison pre-school teacher, emailed CRECE, saying "I so appreciated hearing about the progressive approach that Meredith and her team are taking and felt validated (among many other positive feelings) hearing from a like-minded childcare professional.  It was a great evening of conversation, questions and critical thinking.  Thank you!  I am looking forward to more from CRECE.  Please keep me in the loop!
Want to stay "in the loop" about CRECE events and cutting-edge research?  Contact us to receive timely updates.
______________________
You can still spend Spend a Minute with Meredith via 1-minute podcasts, featuring her answers to five thought-provoking questions —